Pictures of possible interest to our family
(page 7)
Last year (2001) at Junior Friends' Conference the twins learned about bees, and the devastating epidemic which has destroyed half the bees in Pennsylvania, affecting crops of fruits and vegetables drastically. To help, the kids built several bee boxes to be filled with new hives this spring. On April 21st beekeeper Clifford Sunflower came to our Meeting with the new bees, and they were placed in their new home.
---
| Clifford Introduces the Boys to the Bees | Young Friends and the Bees (Sam looks a little apprehensive about carrying them) |
| --- | --- |
| | |
| The Queen Bee comes in her own little cage, with a few workers to keep her fed | The beekeeper puts the bees into the bee box the boys built. |
| | |
---
On September 30th, out of the blue, we got a phone call from the casting director for the new CBS TV show, "Hack". It seems they were in desperate need of some twins for a still photo to be used in an upcoming episode, and had found our phone number through a web search. The directors looked at the photos of Sam & Ed on this website, and decided they were appropriate, and on October 1st we drove down after school to Franklin Field for the photo shoot.

We were astounded at how much work was involved in taking a single still photo for a TV show. About a dozen extras were there to pose around Sam and Ed, and we spent a little over an hour setting up different situations.
Here is a still from the trailer for the episode.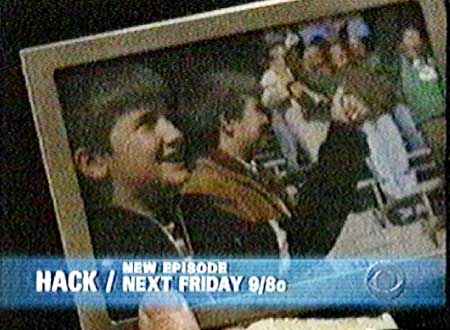 If you have QuickTime, you can click here,
or on the picture, for the full trailer.
Wardrobe
Lining up a shot, photographer on the left, director on the right,
and the pretty lady in the front is another extra.
Sam and some of the extras take a break while
the photographer and two directors review
some pictures in the bright light.
Director and photographer setting up a shot from
the stands towards the field.
Paperwork with the Director
Ed signs his contract
| | |
| --- | --- |
| BACK | FIRST |
[an error occurred while processing this directive]