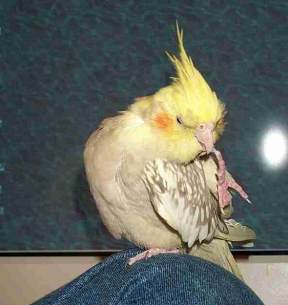 My little buddy Arrick. A gift from my baby sister Lynne, She has enriched my life tremendously.

Arrick surprised us this past November by starting to lay eggs (we thought she was a he). Unfortunately, she died January 15th, apparently eggbound. For someone who has not had birds this is probably difficult to understand, but I am truly heartbroken. It is very hard not to love someone who so obviously loves you so much.
Arrick will never be replaced, anymore than a person can be. We have, however, added two new members to our family. Dax is gray Cockatiel, and Angel is a lutino. We all picked out Angel, but Dax climbed up my shoulder and wouldn't leave,so we had to bring her home!